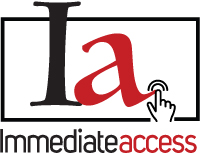 Immediate Access Course Materials Pricing
To find out what courses are enrolled in the Immediate Access program, please visit here.
Immediate Access Course Materials with Opt-Out - FAQ
Q: What is the Immediate Access Program?
A: This program allows students immediate access to their course materials, in digital format, by the first day of classes. All students in courses where the program is offered, regardless of whether they stay in the program, will have this access at no charge until the add/drop deadline. The immediate access program is only offered by the SDSU Bookstore.
Q: What are the benefits to the program?
A: The benefits are immediate access to course materials, which hopefully will make you better prepared for class, and significantly reduced pricing. A secondary benefit is that, since the Bookstore is a not-for-profit campus partner that returns its proceeds to the University, your purchase will benefit SDSU programs.
Q: What is the fee for this program and how will I be charged?
A: If you do not opt-out of the program by the deadline (the add/drop deadline) your student account will be charged the fees for the class. Fees typically are discounted 10% to 20% from the regular digital material prices offered at the Bookstore. Further, Immediate Access prices are usually discounted 25% to 60% from print rental or print purchase prices.
Q: If my course materials include homework tools and I opt-out will I lose the work I have already completed?
A: If you purchase the materials from a different source and use the same credentials (email) to access the materials, your work will be retained. If you do not purchase the materials somewhere else or use different credentials your work will be lost.
Q: How do I opt-out of the program?
A: If you wish to opt-out of the program and purchase your materials another way, either through the Bookstore or elsewhere, simply go to www.shopaztecs.com/optout by the opt-out deadline (the add/drop deadline), and complete the form. It is that simple
Q: If I have opted-out and wish to be opted back in, can I re-enter the Immediate Access program?
A: Students will have until 11:59pm on the add/drop date to finalize their participation in the Immediate Access program. If you need to be opted back in, please send an email to optout@aztecmail.com including your name, Red ID, and IA courses to request your changes by the deadline.
Q: I already have a copy of the textbook. If I opt-out, can I opt-out of just the ebook but maintain access to the other online material?
A: No; choosing to opt-out of the material means you choose to opt-out of the ebook as well as any other online component (ex: Connect, MindTap, WebAssign, etc.) that is required for the course.
Q: How will I know if I opt-out of the program?
A: You will receive an email with your confirmation number when you complete the form. If you did not receive an email upon completing the form, please email us at optout@aztecmail.com.
Q: If I changed section(s), do I have to opt-out again?
A: Yes.
Q: How and when do I pay for Immediate Access?
A: Student Account Service will send you an email after the add/drop date with your Immediate Access bill. To submit a payment online, first log on to Student Account Services, with your RED ID and WebPortal password. Then click on "Make Payment" located at the top of the page. You will then click on the charge that you are trying to pay for and add it to the basket when prompted. Please note that the description under "Make Payment" will appear as "University Charges". You will then be able to check-out with either two payment options: Credit Card (Applicable service charge of 2.75%) or Electronic Check (No service charge).
Q: How do I request and pay for my upgrade print copy?
A: You can opt-out and purchase or rent a print copy at regular price or you can stay in the program and get a low-cost black & white, soft bound copy for an additional price of approximately $25-$40. These low-cost print add-ons will only be offered after the opt-out deadline and the Bookstore will verify you have not opted out and are eligible for the add-on. Visit here for more information on each course.
---
For additional questions, please email us at optout@aztecmail.com